@ RCI London & Southbank Centre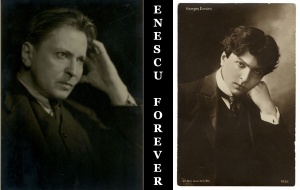 "The Enescu Month in London (23 January – 7 February 2015) is the culmination of more than 7 uninterrupted years of memorable soirées dedicated to the totemic figure of Romanian symphonic tradition and organized by the Romanian Cultural Institute in association with the Enescu Society of London. Bringing together Romanian and international musicians under the aegis of the great composer, the monthly Enescu Concert Series has turned 1 Begrave Square into a space of discovery, initiation, and delight.
The Enescu Month in London is a star-studded tribute, featuring the chamber ensemble of the London Philharmonic Orchestra, violinist and professor Remus Azoiței, the spectacular violin duo Gabriel Croitoru – Liviu Prunaru, accompanied by pianist Horia Mihail, and historians, music critics and promoters like Sir Noel Malcolm, James Jolly, Oltea Şerban Pârâu, Cristina Andrei and Oana Marinescu.
Special guest: Mihai Constantinescu, director of the 'Enescu' International Festival Bucharest.
The programme's chamber concerts, talks and special events, running for several weeks, is a prelude to the premiere of George Enescu's 'Symphony No. 3' by the London Philharmonic Orchestra under the baton ofVladimir Jurowski at Royal Festival Hall on 7 February 2015.
____________________________________________________________________________
Thursday 22 January, 7pm, RCI London: Violinists Gabriel Croitoru and Liviu Prunaru bring their hugely successful 'Duel of Violins: Stradivarius vs. Guarnieri' to London. Accompanied by pianist Horia Mihail.
Programme:
1. Gabriel Croitoru (violin) and Horia Mihail (piano)
Pablo de Sarasate – 'Fiddler Songs'
Angheluş Dinicu – 'The Lark'
2. Liviu Prunaru (violin) and Horia Mihail (piano)
Henryk Wieniawski – 'Polish Concerto No. 1 in D major'
Grigoraş Dinicu – 'Hora staccato'
3. Gabriel Croitoru and Liviu Prunaru (violin), with Horia Mihail (piano)
Astor Piazzolla / Mariano Castro – 'The Four Seasons of Buenos Aires'
© 'The Duel of Violins' is a production of Radio Romania Cultural and Accendo
Free Entry.
_____________________________________________________________________________
Friday 23 January, 7pm, RCI London: James Jolly, Editor-in-chief at The Gramophone chairs a panel of distinguished Enescu specialists and aficionados, which discusses the great composer's outstanding musical legacy. Accompanied by rare pictures and historical footage, casting an unexpected light on the life and work of George Enescu.
Speakers: Sir Noel Malcolm – the leading English authority on Enescu, Oltea Şerban Pârâu – music critic and musicologist, Cristina Andrei – Director of 'Enescu' Museum in Bucharest, Oana Marinescu – Communication & PR Director at the 'Enescu' International Festival in Bucharest.
Free Entry.
_________________________________________________________________________
Thursday 5 February, 8pm, RCI London: A chamber ensemble of the London Philharmonic Orchestra performs George Enescu's superb 'String Octet' in the Enescu Concerts Series, as a prelude to the great premiere at the Royal Festival Hall. This is the first 2015 'Enescu Concerts' Series event which will be opened by maestro Remus Azoiței with a tribute to Enescu – the violonist: 'Chaconne' for Solo Violin by Bach, Enescu's favourite musical piece.
Free Entry.
___________________________________________________________________________
Tickets for the above events can be booked at Eventbrite.
_____________________________________________________________________________
Saturday 7 February, 7.30 pm, Royal Festival Hall/ Southbank Centre: Vladimir Jurowski conducts the London Philharmonic Orchestra through memorable compositions by George Enescu and Sergei Rachmaninoff. The concert also features baritone Andrei Bondarenko and the London Philharmonic Choir.
Programme:
Sergei Rachmaninoff – 3 'Russian Folksongs', Op. 41
Sergei Rachmaninoff – 'Spring Cantata', Op. 20
George Enescu – 'Symphony No. 3'
Tickets £9-65.
___________________________________________________________________________
Who's who?
An exceptional violinist, Gabriel Croitoru has conquered audiences in Romania and abroad with the mastery of his performances. Currently a soloist with the Radio Romania Orchestras and Choirs and the Philharmonic in Ploieşti, as well as a member of the 'Transylvanian' Quartet of the Philharmonic in Cluj-Napoca, Gabriel Croitoru is involved in wide-ranging projects such as 'The Duel of Violins' and 'Enescu's Violin in the Villages'. He teaches at the National University of Music in Bucharest. Gabriel Croitoru plays a Guarneri del Gesù violin dating from 1731.
Winner of gold and silver medals at famous international violin competitions, Liviu Prunaru made his New York debut with the Juilliard Symphony at the Lincoln Center. He has worked with renowned orchestras among which the Royal Philharmonic and the London Symphony Orchestra. Leader of the Royal Concertgebouw Orchestra in Amsterdam, he is also a gifted teacher at the International Menuhin Music Academy, where he was Artistic Director. Every year, since 2011, he has been artistically involved in 'The Duel of Violins' national tour. Liviu Prunaru plays the Stradivarius 'Pachoud' violin dating from 1694.
A musician whose refinement shines brightly in his every concert or recital appearance, Horia Mihail is one of the most acclaimed pianists of his generation. As a concert soloist with the Radio Romania Orchestras and Choirs, he gives numerous concerts and recitals in Bucharest and performs with orchestras around the country. His talent as a pianist has been rewarded with standing ovations at numerous recitals and concerts on four continents. Every year, he is involved in 'The Travelling Piano', 'The Duel of Violins', 'Three Divas', 'The Golden Flute', and 'Enescu's Violin in the Villages' national tours.
Renowned violinist Remus Azoiței has been a featured soloist of prestigious European ensembles including the Orchestre Philharmonique de Radio France, Orchestre National de Belgique and Deutsche Kammer Orchester. Described in The Strad as 'an uninhibited virtuoso, with soul and fabulous technique', he has performed on prominent international stages including Carnegie Hall and Alice Tully Hall of Lincoln Centre in New York, Concertgebouw Amsterdam, and Wigmore Hall in London. Azoiței is a violin professor at the Royal Academy of Music in London and the Artistic Director of the Enescu Society in Great Britain.
The London Philharmonic Orchestra is one of the world's finest symphony orchestras, balancing a long and distinguished history with a reputation as one of the UK's most adventurous and forward-looking orchestras. The Orchestra was founded by Sir Thomas Beecham in 1932, and since then has been headed by many of the great names in the conducting world. The Orchestra's current Principal Conductor is Vladimir Jurowski, appointed in 2007. One of today's most sought-after and dynamic conductors, acclaimed worldwide for his incisive musicianship and adventurous artistic commitment, Vladimir Jurowski is also a regular guest with many of the world's leading orchestras in both Europe and North America.
Sir Noel Malcolm is a historian, philosopher and journalist, and the leading English authority on Enescu. From 1981 to 1988 he was a Fellow of Gonville and Caius College, Cambridge, and is now Foreign Editor of The Spectator. A frequent visitor to Romania (and a trustee of the Mihai Eminescu Trust, which gave support to dissidents during the Ceaușescu years), he was the first Westerner to study Enescu's manuscripts in the Enescu Museum in Bucharest after the museum had been closed down by the Communist government.
James Jolly is Editor-in-Chief of Gramophone magazine – often called the Bible of the classical music recording industry. He was editor of Gramophone from 1989 to 2005 and since then has been Editor-in-Chief. After four years of co-presenting BBC Radio 3's weekday morning programme 'Classical Collection', he has moved to Sunday mornings, with Rob Cowan as his fellow presenter.
Oltea Şerban-Pârâu is a music critic and musicologist and, since 2013, the Director of the Radio Romania Cultural Media Centre. Her career encompasses activity as a musical, artistic and press adviser to musical institutions and prestigious national and international festivals, as the editor of musical publications, and as a jury member for major national and international music competitions. Between 2005 and 2013 she was director of the Radio Romania Cultural station. Since 2009 she has been director of the Radio Romania Orchestras and Choirs.
Cristina Andrei is a graduate of the Department of Musicology of the National University of Music in Bucharest. She has been a curator since 1995 and, in 2012, was appointed Director of the 'George Enescu' National Museum in Bucharest. Cristina Andrei has studied both archives and private collections and uncovered new documents, which have formed the basis of a series of exhibitions dedicated to the great Romanian musician.
Oana Marinescu is the Communication Director of the 'George Enescu' Festival in Bucharest. From 2000 to 2004, she worked as a consultant in public communication and as a political and press officer with the British Embassy in Bucharest, covering Romania and Moldova. Between January 2005-February 2007, she was State Secretary and Romania's Government Spokesperson, after which, between March 2008 to July 2010, she took on the role of Director General for Public Diplomacy with Romania's Ministry of Foreign Affairs.' (ICR)
____________________________________________________________________________